Top 20 Seminar Scams
Our Most Popular Public Service Webinar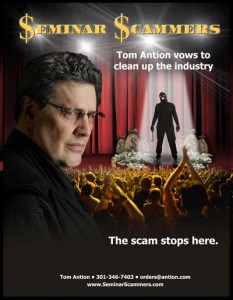 Click Here to Watch the Webinar and Learn 20 Ways You Could Be Robbed By a Sociopathic Seminar Leader
Click Here To Read the Article and Learn of New Scams
Consumer advocate and professional speaker Tom Antion vows to clean up an industry that's becoming dirtier every day. He's got a television show and documentary in development to expose the bad people in the industry so you don't get robbed by them.
If you would like to volunteer for "Antion's Army" contact Tom and tell him how you feel you could help.
There are far too many scammers out there for Tom's present team to handle. He is looking for all kinds of assistance. He needs researchers, investigators, law enforcement, former law enforcement, surveillance experts, film & video production expertise, legal, protection services for the crews along with regular people who have been wronged and want to get restitution and help keep others from falling into the same traps.
Tom needs 100 graduates to apply for accreditation and he's willing to give you a $9100.00 scholarship to help him reach that goal. What's the catch? There is one and he'll tell you about it on the webinar.
The Internet Marketing Training Center of Virginia is the only licensed and dedicated Internet Marketing distance learning school in the country. It's certified to operate by The State Council on Higher Education in Virginia (SCHEV)

This is a limited time opportunity, get more information here.
High Quality / High Content "How To" Webinars
Real Fast Pinterest: How to Drive 122,547 Targeted Visitors to Your Website for FREE
---
Copywriting 901: The Fast Track to Writing Words That Sell
This is the number one skill I've developed to help me make a fortune selling both online and off.
In this webinar I teach 5 critical advertising copy techniques every single business person can easily incorporate to help massively increase their bottom line.
Anyone and I mean ANYONE can add these five techniques to their business. You don't have to be a good writer or even be able to spell that well.
Even though I'm only going in depth on 5 techniques I'll be showing you 31 other things used to sell more of your ideas, products and services.
Click here to learn to write words that sell.
---
Sponsorship Roadmap: How to Get Big Companies to Finance Your Dreams

With Roberto Candelaria
THIS WEBINAR IS COMPLETELY DIFFERENT FROM ROBERTO'S POPULAR "CROWDFUNDING" WEBINAR.
In this webinar Roberto Candelaria tells you critical elements you must do to get big corporations to fund your projects.
=> What Sponsorship Is… And Why You Want Sponsors!
=> Why Sponsors Need YOU… Get Paid To Help Them Reach Their Business Goals
=> Get your book, website, events and dreams sponsored… Finally be able to breath knowing the bills are paid.
=> How to find the "right" person for your sponsorship… You won't spend countless hours making sales calls.
=> How to connect with the person writing the sponsor check!… Roberto has seen too many talented people panic and lose hard earned money only to scramble to find a day job because they didn't know how to approach a sponsor to get funding for their great ideas
=> How YOU Can Get Started TODAY…
Click here to start using the Sponsorship Roadmap to fund your dreams…
---
Crowdfunding: How to Get the Money You Want and Never Have to Pay it Back
How cool is that? Sponsorship and Crowdfunding Expert Roberto Candelaria rocked everyone's world by showing everyone on this webinar how they could get FREE money. This is not hocus pocus! This is a real funding method that's sweeping the world to finance things you wouldn't believe. Click here to watch NOW! (Note: Like all my webinars the bonuses and deals are still good even on the replays.)
---
Kindle Riches: 44 Tips to Write, Format and Promote Amazon E-books
I've been selling online since the commercial Internet started in 1994. Kindle is without a doubt one of the best opportunities I've ever seen for small business people to promote their products and services.
Click Here to Learn How to Use Kindle E-books to Make Yourself a Fortune
---
How to Maximize the Value of Any Speaking Engagement
Click here to Learn to Make More Money Every Time You Speak
There's way more to it than you ever imagined.
In this insider's Webinar Tom reveals the secrets only the top grossing speakers know. These secrets will help you to blast through average speakers fees . . .
---
How To Create Prospect and Profit Pulling Content in 20 Minutes or Less 
with Jeff Herring
In this immediate results oriented webinar you will actually create a piece of usable content in your field and learn how easy it is to crank out content like crazy.
Click Her to Learn How to Create Content in 20 Minutes or Less
---
How to Make Websites the Search Engines Love for 20 Bucks or Less
Click Here to Create Fantasic Websites on the Cheap Tom has built a nice big empire of websites and blogs that make him lots of money and he probably paid less for twenty of them than you paid for one. . . Click here for more info
---
How to Make a Fortune Speaking at Fundraisers
Click Here to Learn How to Do Lots of Good in the World and Make Money Too Tom has done this personally well over 100 times in his career and each time it's been a win/win/win for him, the group he did it for, and the audience members who attended. How can you beat that? It's also the number one way that speakers can earn a consistent income in any economy. Click here for more info
---
"How To Create Great Video With an IPad or IPhone with Mike Stewart"
Mike Stewart will show you how to make fantastic video on an ipad or an iphone with a $5.00 app. This is a can't miss webinar if you want to start cranking out great video without spending a fortune.
Click here to watch ipad and iphone video magic right before your very eyes
---
What You Need to Know About Collecting Money Online
Click Here to Learn How to Evaluate Online Merchant Accounts
---
Finding Your Public Domain Fortune
Click Here to Learn How to Create Awesome Products Starting With FREE Government Printing Office Documents
---
Hybrid Webinars: How to Make a Fortune with Live Rebroadcasts
Click here to learn the secrets of replaying your webinars over and over again
---
YouTube Super Secrets
Click Here to Learn All the Trick of the Trade to Maximizing Your Results On YouTube
---
Real Fast Webinars
Click here to Learn the Secrets of Highly Profitable Webinars
---
Outsource to the Philippines for as little as $1.70 per hour
I tried using brokers and it was nothing but a disaster and a month of wasted time.  You MUST learn the cultural differences to be successful in hiring people directly so you can cut out the middle man. Click here to learn how to outsource to the Philippines
---